Kelowna and the Okanagan's Affordable Cremation Services
Completion of all cremation registration documents by the family on our server in the comfort of your own home.
Signing of cremation documents at our office conveniently located in Kelowna - with a funeral director licensed by the Province of British Columbia.
Registration of Death with British Columbia Vital Statistics.
Receiving your loved one into our care – within Kelowna city limits. Additional fees for mileage outside of Kelowna City Limits will be added.
Note: An additional fee of $150.00 will be charged for any transfers required after hours between 5:00 pm and 8:30 am within a 40 km radius (additional fee for mileage outside of Kelowna City Limits.
Cremation Fee (in our owned and operated Crematorium).
Applications for Canada Pension Plan Death Benefit Forms - ($2,500 benefit for those who qualify), Application for Survivor Benefit Forms for Canada Pension.
Not Included
Cremation Urn (starting at $58.oo)
Cremation Cost:
$1790.00 CDN + GST
Additional charges: Applicable Taxes, After-hours transfer fee 5:00 pm – 8:30 am, Mileage fee outside our 30-km mileage radius.
Our cremation process is very simple. Contact us to obtain login credentials, and then complete our form to record your loved one's Vital Statistics.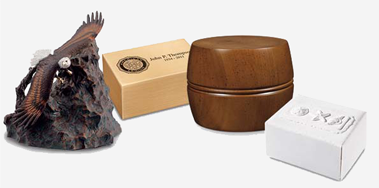 We have a beautiful array of cremation and keepsake items.