Crematorium FAQ
Below you'll find common questions and answers regarding crematoriums, cremation and those asked of Today's Choice Alternative Funeral Services Ltd.
Q. What is Direct Cremation?
Direct Cremation is the cremation of a body in the days immediately following a death. Direct Cremation, sometimes called "simple cremation", does not include the use of a funeral home or its staff to facilitate any viewing, visitation, funeral or memorial service at the funeral home or graveside. See our What is Direct Cremation page for details.
Q. When someone passes away, who can make decisions about disposition?
Section 5 of the Cremation, Interment and Funeral Services Act in British Columbia lists the order of priority in determining who can make decisions regarding final arrangements:
the personal representative named in the will of the deceased;
the spouse of the deceased;
an adult child of the deceased;
an adult grandchild of the deceased;
if the deceased was a minor, a person who was a guardian who had care and control of the deceased at the date of death;
a parent of the deceased;
an adult sibling of the deceased;
an adult nephew or niece of the deceased;
an adult next of kin of the deceased, determined on the basis provided by section 23 (5) of the Wills, Estates and Succession Act
the minister under the Employment and Assistance Act, or if the Public Guardian and Trustee is administering the estate of the deceased under the Wills, Estates and Succession Act, the Public Guardian and Trustee;
an adult person having a personal or kinship relationship with the deceased, other than those referred to in paragraphs (b) to (d) and (f) to (i).
Q. What is the role of a funeral provider?
A funeral provider or crematorium is licensed under the Cremation, Interment and Funeral Services Act to own and operate a funeral home and to provide funeral services. The funeral provider picks up the deceased, provides a container or casket, prepares the body for burial or cremation, arranges the funeral or memorial service, arranges transportation to the crematory or to the cemetery and arranges the graveside service, if required.
Q. Are prices for cremation fixed throughout BC or does it differ between providers?
Although pricing for cremation services are not regulated and can therefore vary, funeral providers are required to display a current price list of all the services and products they offer. They must give the information over the phone upon request. For a rough guide of cremation costs and comparisons to funerals and burials, see our Differences in Cost between Funerals/Burials and Cremation in Canada page
Q. What guidelines should I use to choose a crematorium?
The Cremation Association of North America recommends asking specific questions of the crematorium so you can be certain the firm you have selected to handle this special duty is beyond reproach. See our What to Look for in a Crematorium for specific guidelines and questions you should ask a crematorium and yourself.
Q. What is your cremation process?
We provide a dignified, no-frills cremation alternative that is convenient, simple, and affordable. See our How It Works page for the step by step process involved in cremation with Today's Choice. If you're interested in the actual cremation processes itself (Preparation of body, cremation and processing of ashes), see our The Cremation Process Explained page.
Q. Why is cremation so much cheaper than a funeral and burial
Cremation at Today's Choice does not include a funeral or memorial service at any funeral home, therefore, the use of the funeral home's staff and facilities can be skipped avoiding many of the costs that come with a "traditional" or full service funeral. The majority of funeral costs are represented by professional service, merchandise, final disposition and indirect costs. See our Funeral Costs and an Affordable Alternative Option page for details and/or our Differences in Cost Between Funerals/Burials and Cremation in Canada page
Q. Is there any BC or Canada government financial assistance available for cremation?
There are a number of programs in BC and Canada which may offer financial assistance to you for helping with the costs of a cremation. See our Funeral Cost Assistance and Death Benefits in British Columbia and Canada page for information and links to resources.
If we haven't answered any of your crematorium questions here, please feel free to contact us.
Cremation Cost:
$1790.00 CDN + GST
Additional charges: Applicable Taxes, After-hours transfer fee 5:00 pm – 8:30 am, Mileage fee outside our 30-km mileage radius.
Our cremation process is very simple. Contact us to obtain login credentials, and then complete our form to record your loved one's Vital Statistics.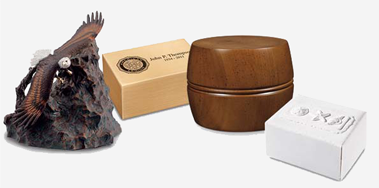 We have a beautiful array of cremation and keepsake items.