Our Affordable Cremation Services Process
No-Frills Cremation Services
Step 1: Contact us by telephone to obtain access to our secure website cremation registration form.
Note: Your loved one will be received into our care from the hospital, care facility or a residence, as soon as we receive authorization from you.
Step 2: Complete and submit the secure online cremation forms required by British Columbia Vital Statistics (takes approximately 20 minutes).
Step 3: Sign Documents: Our funeral directors will meet with you at a scheduled time at our Kelowna office location to obtain the necessary authorization signatures. ***Note: an appointment is required***
Step 4: Payment made in full is required prior to start of the cremation process, we are pleased to offer convenient secure-online payment, or in person we also accept Visa, Master Card, cheque or bank draft.
Step 5: Our people will complete and obtain all of the legal documentation required by the Province of British Columbia before the start of the cremation process.
Step 6: Cremation Process takes place in our own crematorium.
Step 7: Cremated Remains will be available for the family to receive from our Kelowna office within 4-6 business days from the time of signing of the documents. (Note: We do offer a quicker turn-around for an additional fee.)
Cremation Cost:
$1790.00 CDN + GST
Additional charges: Applicable Taxes, After-hours transfer fee 5:00 pm – 8:30 am, Mileage fee outside our 30-km mileage radius.
Our cremation process is very simple. Contact us to obtain login credentials, and then complete our form to record your loved one's Vital Statistics.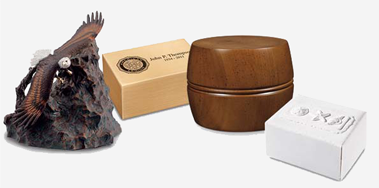 We have a beautiful array of cremation and keepsake items.