What to Look For in a Crematorium
The Cremation Association of North America recommends asking the following questions so you can be certain the firm you have selected to handle this special duty is beyond reproach.
Make sure you select a reputable firm:
Click here to confirm a licence.
Ask your friends and others in your community what they know about the firm.
Seek advice from your clergy regarding your choice.
DO NOT choose a firm based solely on price.
Determine the type of services you would like. The type of service you request will be the determining factor in what the cost will be.
Cremation with visitations and embalming
Cremation with visitation
Memorial service – with the cremated remains or without
Church service
Direct cremation with no service.
In choosing a firm, ask the following questions regarding policies and procedures for proper cremation practices.
Do they have their own crematory or do they work with a cremation firm? If the latter, which crematory do they use?
Who owns the crematory facility?
How often do they inspect that facility?
Are licenses and permits current?
Does the crematory have refrigeration?
How long does the crematory hold the body prior to cremation?
Does the crematory have liability insurance?
Does the crematory facility allow witnessing by family members?
If we can answer any or all of the crematorium questions above for you, please contact us.
Cremation Cost:
$1790.00 CDN + GST
Additional charges: Applicable Taxes, After-hours transfer fee 5:00 pm – 8:30 am, Mileage fee outside our 30-km mileage radius.
Our cremation process is very simple. Contact us to obtain login credentials, and then complete our form to record your loved one's Vital Statistics.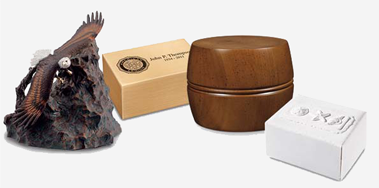 We have a beautiful array of cremation and keepsake items.