Differences in Cost between Funeral/Burial and Cremation in Canada
The question of cost is sometimes an issue that people feel uncomfortable asking a funeral director, believing that asking "how much" does not seem dignified. This demonstrates just how much of a 'distressed purchase' a funeral is, and how culturally we still feel uneasy about the ritual of dying.
Yet, with tougher economic times hitting all of us, the cost of dying has become a very important one. Fortunately, the Internet helps people find answers to the question of cost, without having to go through the discomfort of making multiple enquiries by face to face or by telephone to funeral homes.
Historically the funeral industry has not openly disclosed funeral prices, and many funeral home websites will not even publish a price list. These days you can find more funeral homes providing open disclosure of funeral package prices. However, the cost of a funeral can still vary significantly depending on where you live and which funeral services provider you use.
What are average funeral and burial costs in Canada?
When it comes to trying to establish average burial costs, there are many considerations related to the type of casket, casket liner, vault, cemetery plot, grave marker, etc, etc. Also, in the case of a burial, embalming is an additional cost, plus dressing, a viewing, vehicles required, services of funeral staff, and the list goes on. At a stressful time, all these choices can be so daunting that the bereaved often are so overwhelmed, that the stock answer is "just do a nice funeral for her". A "nice funeral " in the case of a traditional burial can start at around $5,000 but can quite easily amount to a cost of $15,000 or more.
What are average cremation costs in Canada?
As a very general guide a cremation is likely to cost a quarter or less, of the cost of a burial. A simple, direct cremation in Canada can start at around $1000, whereas a cremation with a service, and extra disbursements (obituary notice, viewing, funeral flowers, etc), may cost in the region of $4,500. As mentioned above, cremation service costs will vary depending upon your province and area.
How can you arrange a simple, low cost cremation in Kelowna or the Okanagan?
Although cremation as a disposition option has been in Kelowna and the Okanagan for some time, the interest in simple, low cost alternatives is growing. According to Cremation Association of North America in 2008, the cremation rate in Canada was 36.2% and is growing about 1 percentage point a year. Changing religious and cultural attitudes and the high costs of funerals have resulted in more people looking for less expensive and simpler alternatives to a traditional funeral or full cremation service. Direct cremation is becoming quite popular. A direct cremation is when the deceased is simply collected from the place of death and transferred to the funeral home or crematory for an immediate cremation. No service is conducted prior to the cremation [although sometimes a brief family viewing is conducted]. The cremated remains are returned to the family within a few days in a basic plastic urn, an upgraded traditional urn (or in cremation jewelry which is becoming a trend). This is the least expensive means by which to conduct a funeral. The cremation process can even be started online today, without the need to visit somber funeral homes. Families can then arrange their own memorial at a later date and a time and place that suits the family. This also puts the family in control of the memorialization process, instead of paying a funeral home for this service.
As simple cremation without a service becomes more in demand, more funeral providers are competing for this market, and so the costs for a basic direct cremation are coming down in Canada.
If cost IS an important factor in your funeral planning, then we would strongly recommend that you consider cremation. It helps to have an idea of what your funeral needs are before you contact any funeral providers. This way you can be in control and ask the right questions. Being armed with this information will enable you to ask informed questions of a possible funeral director or crematory staff member.
If you would like more information on our affordable cremation services please contact us.
Cremation Cost:
$1790.00 CDN + GST
Additional charges: Applicable Taxes, After-hours transfer fee 5:00 pm – 8:30 am, Mileage fee outside our 30-km mileage radius.
Our cremation process is very simple. Contact us to obtain login credentials, and then complete our form to record your loved one's Vital Statistics.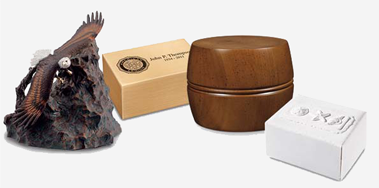 We have a beautiful array of cremation and keepsake items.